Halloween is only a couple days away and for kids this is an exciting time full of treats, ghoulish games, cute costumes, glowing Jack O' Lanterns and spookiness! For parents, all the fun and excitement can come with many safety concerns for your loved ones whether it be while you or your kids are out and about or at your home. Be sure to talk to your kids about safety and prepare your home or business from the true goblins hiding behind all the ghostly fun!
Costumes
Fasten reflective tape to costumes and bags to make child visible.
Does the costume fit properly? Is there anything they can trip on? Be sure to check for any hazards with the costume on while walking.
If they are wearing a mask, make sure they can see properly while walking.
Use nontoxic makeup and remove from children before they go to bed to avoid skin and eye irritation.
Trick-or-Treating
Young children should be accompanied by a responsible adult
If older children are going without an adult, plan and review the route acceptable to you. Be sure they are able to reach you in an emergency and agree on a return home time.
Only go to homes with a porch light on
Carry a flashlight
Instruct kids not to eat any treats until you have inspected the candy. Do not eat any treats if the package is not sealed properly.
Do not go inside anyone's home to get treats.
Be alert walking and crossing the street. Put the electronic devices down and heads up and aware of vehicles.
Driving
Slow down and be alert.
Stay off your phones.
Watch for children in roadways and in dark clothing.
Use hazard lights when dropping off or picking up kids.
Pets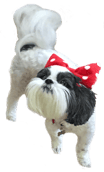 Keep treats out of reach for pets as it can be very dangerous to their health.
Be cautious with costumes on pets as they may become stressed. Try having them get used to wearing the costume the night before.
Keep them calm. For those pets uncomfortable with visitors, keep them in a separate room to avoid them from running outside when the door opens.
Home
Keep home properly lit with outside and inside lights.
Be careful with decorations and lit pumpkins. Pets or children could knock over that Jack-o-lantern and start a fire.
Clear your yard of items such as hoses and leashes to avoid accidental tripping.
Out with your kids? Don't forget to arm your security system while you are gone.
Halloween is a time for fun, thrills and a little sugar rush. Remember these tips to safely return home with bags brimming with candy. Concerned about keeping your home safe? Custom Alarm is here to help provide Peace of Mind so you can go out and enjoy the little things in life.