It's that time of year again… the Holidays, which kicks off with Thanksgiving. A time for family, friends, and delicious food. This day can be a crazy one at many homes with kids running around, adults busy making food, setting the table, sharing conversation and many distractions. For most, the kitchen is where the family gathers from taste testing, to baking and preparing for holiday festivities. It is also where many dangerous incidents can occur.
Not so Fun Facts
According to the National Fire Protection Association (NFPA), Thanksgiving is the peak day for home cooking fires with more than three times the daily average for such incidents. On Thanksgiving Day alone, an estimated 1,160 home cooking fires were reported to U.S. fire departments in 2021, a 297% increase over the daily average.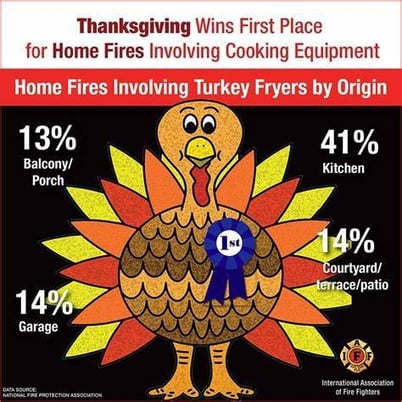 As your local, trusted, security solution provider we've put together a Thanksgiving safety list to help protect your home, family, and those you share the day with.
Grease Fire
When your cooking oil gets too hot a grease fire can occur. Grease fires can escalate very quickly and be extremely dangerous, call 911 as soon as you suspect you will not be able to contain the fire.
Here are steps to help put a grease fire out:
Turn off the heat source and cover the flames with a metal lid or cookie sheet.
Leave the cover on until everything has cooled down.
Salt or baking soda can be used to smother a small fire if it is in your oven. Do not attempt to use flour, baking powder or other cooking powders as they may cause the fire to become worse.
Do NOT use water! Pouring water on burning grease causes the fire to spread and become larger.
Do not carry the pot/pan outside. You are likely to spill the grease which will cause the fire to spread within the home.
If the fire gets out of hand, get out of the house, and call 911!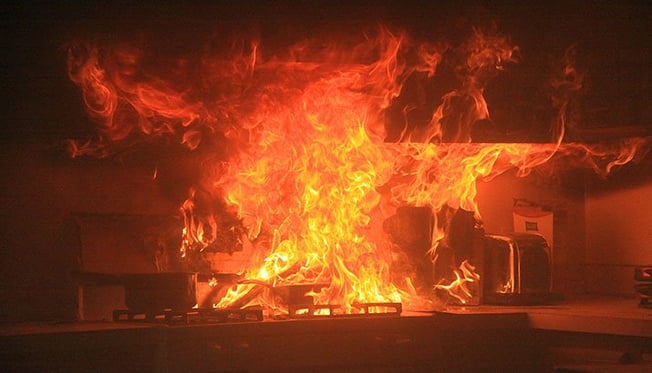 Kitchen Safety & Cooking Fires
It can be an extremely distracting time getting everything ready for the Thanksgiving Day meal while also spending time with family and friends. There are likely little one's running around; conversations being had, and multiple dishes being made all at the same time.
Remember these safety tips while preparing for your Thanksgiving feast.
Stay in the kitchen while cooking.
Children should stay at least three feet away from the stove, hot foods, and liquids unless supervised by a non-distracted adult.
Before you start cooking, make sure your smoke detectors are working. Test them by pushing the test button on them. Replace batteries if needed.
Keep your cooking space clean and clear of tripping hazards and flammable items.
Keep knives, electrical cords out of reach of children or dangling from counter tops.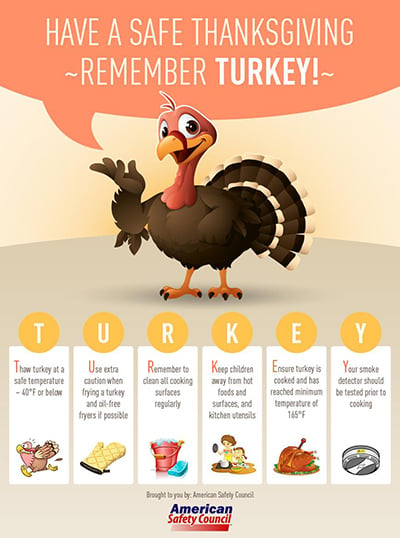 Deep-Frying Turkey
One popular recipe for Thanksgiving is deep-frying the turkey in boiling oil. This can result in a very delicious turkey, but it comes with many dangerous safety risks.
Take these safety tips into consideration before deep-frying your turkey:
Make sure your turkey fryer is on a sturdy level surface, do not move once in use.
Keep your Deep fryer 10 feet away from your home and not under a roof, patio or on a deck.
Do not overfill the pot which can cause the oil to spill once the turkey is placed in it.
Fully thaw your turkey before placing it into the pot.
A fryer without thermostat controls can continue to heat oil until it is at the point of combustion. Do not leave the fryer unattended and use a kitchen thermometer if the fryer does not have one.
Always wear protective clothing to protect yourself from splatter. Use well-insulated oven mitts and long sleeves to cover hands and arms close to the hot oil.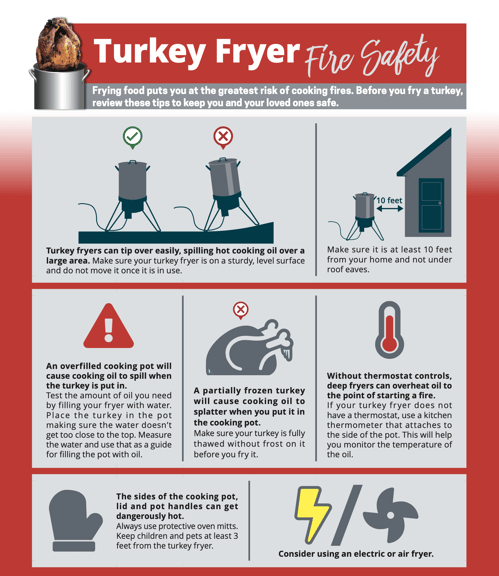 Custom Alarm is Thankful for You
The team at Custom Alarm is Thankful to our customers who put their trust in us to help them protect their homes and businesses and those in them throughout the year. We want your Thanksgiving Day and every holiday/milestone to be memorable for the right reasons.
With 24/7 monitoring every day of the year, you can be sure you're always connected & protected, no matter what holiday it is.
We wish you all a very Happy Thanksgiving, enjoying time spent with family and friends!