It seems as though the decorating and holiday preparation starts earlier and earlier each year. With Thanksgiving late, many have already started getting into the holiday spirit early. Are you prepared for the unwanted visitors and mishaps? The holidays are one of the most likely times for a home break-in. Don't let the unwanted happen to you, instead enjoy each moment worry-free by following a few security tips.
Decorating
The Christmas tree is the focal point in the house, don't let it be the source of a fire. According to the National Fire Protection Association, a heat source too close to the tree causes roughly one in every four of the fires.
Make sure the tree is at least three feet away from any heat source, like fireplaces, radiators, candles, heat vents or lights.
Do not have the tree blocking an exit.
Real trees: add water to the stand daily, dry trees become increasingly flammable as they dry out.
Always turn off Christmas tree lights before leaving home or going to bed.
More than 1/3 of home decoration fires are started by candles. Use battery operated candles to prevent risk. Never leave a candle burning when you are not in the room.
Protect your packages
Whether it be the packages under the tree, in your car or on your doorstep, make sure they remain yours and not fall into the hands of a burglar.
Keep packages out of site in the car while shopping.
Store wrapped presents away from windows at the house to avoid the temptation for someone breaking in.
Know when packages are being delivered and who is at your doorstep with packages or potentially removing packages with a Video Doorbell.
After the packages are ripped open, break down boxes so they don't sit on your curb letting everyone know what's inside the house.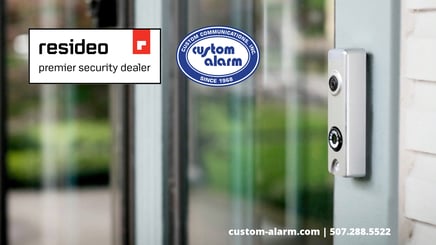 Light up your home
Gone for a few days? Working? Home alone? Inside and out, burglars hate well-lit areas.
Make your home look lived in while you are away.
A home security system with integrated home automation allows you to control your lights, doors and more from the palm of your hand.
If you are away, have neighbors or friends remove snow or make tire tracks in your driveway to create the idea you are home.
Put a hold on your mail or have someone you trust pick up your mail while you are away.
Keep Travel Plans Offline
It can be hard, but try to refrain from posting your travel plans and/or pictures on social media. Leave out the details and wait until you return to share all the fun you had. This is perfect information for a thief, knowing your house is empty and the timeframe they have to get what they want.
Let the Experts Help
Burglars are less likely to break into a home with a security system. Take some time to make sure yours is working correctly.
Make sure to arm your system when leaving the home or going to bed.
Display or get a yard sign or sticker for your window to let people know you have a security system protecting you.
Fires: put a monitored combination smoke and carbon monoxide detector in your home and reduce the potential damage if something were to happen.
Now take a deep breath, sit back and enjoy the holiday season with friends, family and those lovely in-laws.
If you are looking to take the next step toward safety and security of your home and family, Custom Alarm has been providing "peace-of-mind" security for over 50 years, locally owned and operated with 24/7 monitoring center right here in Rochester!