You may enjoy the sense of relief knowing that if you lose your house key or you need someone to stop by the house while you're not there, you can rely on your trusty spare key. Well that sense of relief should be a sense of fear, fear that someone unwanted may find that key and walk right in.
Not sure where to place that spare key to your house? Don't become a statistic as most burglars enter through the front door. You may think you have the best hiding place, but professional burglars have thought of it all.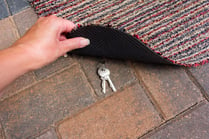 Where NOT to place that spare key
Under your welcome mat
Under any outdoor furniture or decorations
Under any landscaping, flower pots etc.
ANYWHERE OUTSIDE
Be Free from the Key
Get rid of the worry of having your key laying around outside for an unwanted visitor to find. The solution is easy and convenient for all members of the family.
Smart Lock
The smart lock allows you to control your doors remotely from any location.
Keyless entry- no more worry about losing your keys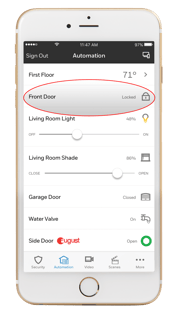 Know who is coming and going- receive alerts to your phone when someone enters and who enters based off the code entered
Allow access to your home remotely- from your phone, unlock the door for someone at your home while you are away
Unique codes for different users at the door- family, friends, housekeeper, know who is at your home by the code they enter
Safe & secure- no more hidden key for unwanted visitors to find
Take the next step and tie it into your security system; manage your security system, door locks, automation devices, view real time alerts all from your phone, tablet or PC no matter where you are.
Custom Alarm allows you the safety, security, accessibly and benefit of the spare key concept without compromising your home. Interested in getting started or learning more? Don't miss this limited time special, of a FREE smart lock!