Charitable...Compassionate...Generous...Helpful...These are just a few words that come to mind when thinking of The Ronald McDonald House in Rochester, Minnesota. As an organization that provides a home away from home with housing, meals and compassion to families seeking medical care for their children; this facility was in need of a large expansion in 2018 due to the high demand.
The Ronald McDonald House is far more than just a place to sleep. Many of the families who come here are undergoing some of the most stressful times of their life as they seek medical care for their children. Families often travel long distances for their sick children to receive treatment, often times only part of the family is able to travel which causes additional stress on the parents. The need has continued to grow and the Ronald McDonald House wanted to do whatever they could to accommodate more children and families needing a place to stay providing a safe haven for them during their treatments at Mayo Clinic. In 2018 the board approved the expansion and a capital campaign began which would include additional rooms expanding from 42 rooms to 70, a small indoor gym was added as well as outdoor and indoor play areas for days when the cold winter weather shows up.
Custom Alarm has long been a supporter of the work the Ronald McDonald House does with our founder and former CEO, LJ Johnson serving on the board in the past, employees volunteering as greeters and as a company sponsoring several events including volunteering as a team for making and hosting meals for the families staying at the House. When the project was announced, we were determined to help in providing excellent solutions and ensuring peace of mind security for all the families coming and going as well as the staff and volunteers.
With the expansion, Custom Alarm was able to provide security which included cameras, access control, video door solution, intrusion and life safety protection across the entire house in both the existing and new addition. The first focus was on the fire alarm system. This building had an existing older Notifier fire alarm system, but due to the addition, the main panel would need to be upgraded in order to provide sufficient coverage. Custom Alarm assisted in the overall design and ensured it met code with the changes in the floorplan and change in use of the space.
We coordinated our installation with the other trades pulling over 16,000 feet of cable between the existing building and the new addition. Due to the occupancy classification of the new building, each of the units were required to have built-in smoke alarms with sounder bases as well as low frequency sounders for audio-visual notification.
Additionally, environmental sensors such as low temperature and flood sensors were added to the fire alarm system to provide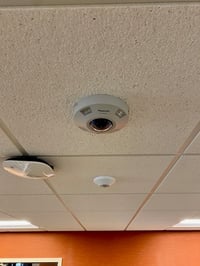 the facility manager with immediate notification via a wireless radio. This was a priority and a huge value add for the customer, who often worried about water getting into the building. Along with the fire alarm system, local and state codes required an area of refuge system. This system was installed to create a way to allow guests the means to notify a master unit telling someone of their location in the building if the normal evacuation route was unsafe. Custom Alarm monitors this unit and is notified if such an event occurs, dispatching help onsite and notifying the local fire department.
One of Ronald McDonald House of Rochester's core values is Hospitality with Heart where they provide a warm, welcoming environment where children feel safe, comfortable and loved and their families gain strength and hope. Custom Alarm focuses on providing peace of mind and our proactive approach to provide a safe environment for these families by leveraging technology and installing access control and video surveillance system for the staff and families to move about the House in a secure and safe manner.
"Custom Alarm is proud to have been their security partner of choice leveraging our vast expertise and tenured team to help from design to install," state Melissa Brinkman, Custom Alarm CEO. "We had already worked on both the original building and the first addition years ago and have a strong working relationship with their staff making the discussion from design to execution seamless. Though the entire project was managed by a general contractor, we were able to work directly with the Ronald McDonald House on several aspects of the security and worked directly with the electrician on the other parts ensuring all was installed based on what the customer wanted. We also worked with our manufacturer partners to secure better pricing and we donated some goods and services in support of the incredible work and impact they make on so many families in need."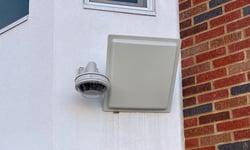 We added to their existing camera system including upgrading all to IP cameras and adding more video intercoms. Over 10,000 feet of security cabling was pulled to 41 cameras and four video intercoms. We also designed a new Exacqvision Video Management System with both interior and exterior cameras in critical areas in and around the house. Based on the needs of the Ronald McDonald Ho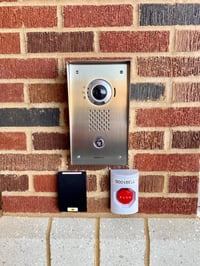 use, we installed a variety of camera models including; 20MP multi-sensor cameras, 2MP mini-dome cameras, 3 and 5MP outdoor dome cameras as well as 5MP indoor fish-eye cameras to provide 360 degree coverage in key traffic areas.
With the integration of the access control system, Custom Alarm installed an Aiphone Video Intercom system on exterior entry-exit doors. The components include door stations with built-in cameras and when pushed, activate multiple master stations inside of the building, allowing staff in different parts of the building to interact with the visitor. The staff can then speak with and view who was at the door and if allowed entry, remotely unlocks the doors with the press of a button. This was a big priority and concern for not only the staff, but also for the guests who were ensured that no outside visitors were allowed in without staff permission.
"We had the privilege of working with Custom Alarm on our Love Tremendously Hope Exceedingly building project to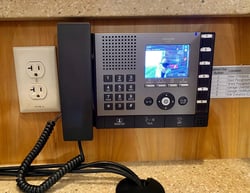 expand the Ronald McDonald House in Rochester, MN," said Peggy Elliott, Executive Director of the Ronald McDonald House of Rochester. "Knowledgeable security experts from Custom Alarm worked closely with us from building design to project completion, ensuring complete integration and usability. The systems in place today provide a safe and secure environment for our Guests, staff and visitors, and we couldn't be more pleased with the total security solution. We consider Custom Alarm a trusted partner and value their expertise and commitment to keeping our Home Away from Home safe and secure."
With the project now completed, Custom Alarm is proud to maintain a service and maintenance program of all security and life safety equipment installed in the building. The Custom Alarm team has completed the mandatory annual fire alarm inspections in order to ensure all components are functioning properly. We also have our Advanced Security team complete an annual inspection of the access control and video surveillance system. During the inspection, the team cleans dirty lenses to ensure best possible image quality as well as complete any new software updates that are available within the system. By doing so, we ensure the system remains efficient and operational for many years to come.
"Custom Alarm appreciated the opportunity to provide our long-standing customer with an end-to-end solution that addressed the growing demand for its services and to support families seeking comfort and support while receiving medical care for their children in Rochester," said Brinkman. "This is definitely one project that stands out in everyone's minds who was directly involved. Our installation technicians often commented about how blessed we are and how much of a difference the Ronald McDonald House makes on these families with very ill children, truly touching."