With your Custom Alarm Connected Home, you have the power to transform your house into the most convenient, comfortable, and cost-efficient space you've ever lived in. Imagine monitoring and managing your entire home, from your locks to your lights and more, with the tap of an app. It's the simplest way to be in total control of what matters most – your home and everyone in it.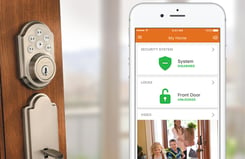 With smart (z-wave) door locks integrated into your security system you can forget about losing keys. Take the worry out of hiding a spare key, kids losing keys or changing locks because of key issues. Now you can unlock your door using your phone from anywhere whether it's a housekeeper, visitor, or the kids. Create codes for different people and receive alerts when they enter the house, knowing who and when they got home. Better security and convenience at your fingertips.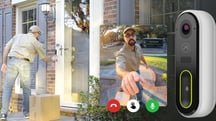 Speaking of doors and controlling who comes and goes, how about who is visiting your front door? If you receive packages regularly, who doesn't these days?... keep an eye on those packages and everything else happening at your front door with a video doorbell. Receive alerts when someone comes to your door, speak to them with the two-way audio, and do it all from your phone no matter where you are.
Don't forget about the garage door! Did I lock it when I left? A regular question you may ask yourself… but ask no more. Garage door control can be a big convenience relief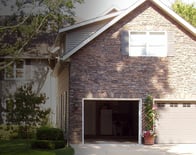 item for you. Having the control of opening and closing the door from your phone can put your mind as ease when you are gone, and you think you forgot to shut it. Look at your phone and know whether your door is open or closed. Going for a walk with the dogs and kids? You already take your phone no matter what so now you can open and close that door from your phone. No need to bring an opener or use the code on the door.
Now lets move inside the home and talk about lights. Do you ever sit down or lay in bed and forget to turn off the lights? With lighting control, you can turn on/off your lights from your phone. Even better, set a schedule and have your lights go on/off at certain times in the day. This gives you the ability to have that "lived-in" look even when you are away. It also makes life easier when your hands are full entering the home, you no longer need to walk in the dark.
It gets cold here in Minnesota… really, really, cold. Those cold temperatures can really do a number on pipes and homes or cabins if not careful. Frozen pipes can then lead to major water damage, that is very spendy to repair. These water/low temperature sensors are the perfect thing to place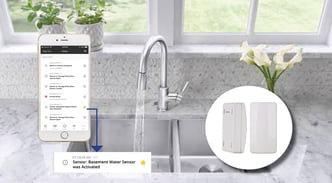 around the home and have that peace of mind. These small devices can be put under sinks, washing machines, in basements where water is likely to enter and any other vulnerable location. When water is detected, you are alerted and able to take action right away to prevent extensive damage. Maybe you own a cabin and you don't spend much time there in the winter, these can alert you if the temperature drops too low giving you the ability to fix the situation before potential damage is done.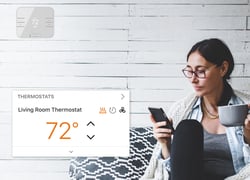 Speaking of temperatures… the constant up and down of a thermostat can be annoying. It's too hot, too cold, no one is ever happy with the temperature. Simplify things and set a schedule with our security system to control the temperature while you are home or away, or an hour before you arrive home. Are you away and you forgot to change the temperature, or lying in bed and too cold? Control the thermostat from your phone. With geofencing technology, the security system can adjust your home's temperature before you arrive and after you depart.
Simplify life and take control of your home with these easy-to-use devices all from one app with a system from Custom Alarm. Our expertly trained technicians will professionally install the devices and train you on how to use everything. Our local, friendly team is available to answer questions and show you how to get the most out of your system. Call 507.288.5522 or click below to learn more today!