We're Here For You
Your need for security does not stop during difficult times, and neither do we.
Our customers depend on us to help protect property and save lives. We recognize the critical importance of remaining operational throughout these unprecedented times. Our top priority is keeping our 24/7 Monitoring Response Center fully operational with appropriate staffing to ensure we continue protecting our customers.
Due to the recent events of the "Stay at Home" order and the closure of many businesses, there has been an increase in vandalism/break-ins to local businesses. Rochester Police Department and Custom Alarm want to continue to help protect those businesses during this crisis which is why we have implemented the following changes to our commercial alarm process:
New Process for Commercial Alarm Dispatching effective immediately
(within the city of Rochester)
Custom Alarm will dispatch police FIRST before using the call-list for that business.
Rochester Police Department will NOT be charging the commercial businesses for responding if they turn out to be to false alarms.
Once we are able to go back to "business as usual", this process will revert back.
Consider how your security system can help mitigate your risks. Our security consultant team is ready to respond if you have any additional security/safety needs.
Commercial businesses outside of Rochester will be dispatched as usual unless otherwise communicated by municipality.
We have put together a Security Checklist for your office: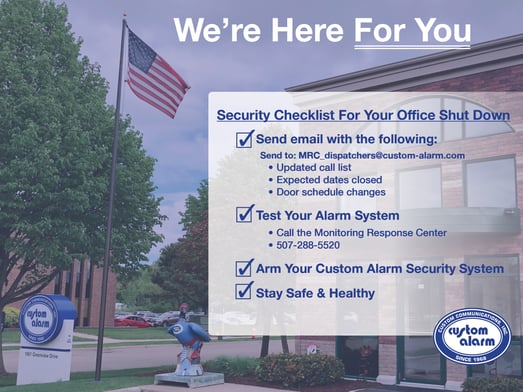 If you have any questions, please reach out to our team at 507-288-5522, live chat with a friendly staff member or fill out one of our forms and we will get back to you promptly.
We have been here as your security partner of choice for over 50 years and will continue to be here to do our part to keep you, your business family protected through this time and for years to come. Thank you for trusting us to be there for you.