Steps to protect your valuables.
A burglary occurs approximately every 20 seconds in the United States. That adds up to almost 180 per hour and 4,320 a day. According to the FBI Uniform Crime Reporting, in 2016 burglaries of residential properties accounted for 69.5 percent of all burglary offenses. These are alarming statistics and something you don't want to spend time worrying about.
When you hear it on the news then you start to worry about your home, but why not be proactive and implement ways to protect your home and family before your neighborhood is in the news?
Follow these simple steps to improve the security of your home and reduce the temptation for a burglar:
Secure the Entrances of Your Home
Easy access points for burglars should be secure. Front and back doors, windows on the lower level and garage doors are common places of entrance. Make sure to keep windows locked, place a wooden dowel for extra protection on slider windows or patio doors. Have a deadbolt on front and back doors. Change your locks if you misplace your keys, even if you find them. You never know if someone made a copy while they weren't in your possession.
Make Your Home Look Occupied
Believe it or not, the majority of home burglaries take place during daylight hours between 10 am and 3 pm, not at night. This is when most people are at work or school, allowing burglars to enter and not be caught by the homeowner.
Set timers on your lights or TV during the day to give the appearance of someone inside. If there's a car at home, leave it in the driveway.
Hide Valuables
Keep valuables out of view from windows and open areas. Burglars look for homes that are easy targets and can enter, get what they want and leave in less than 10 minutes. Think of creative locations to hide items instead of the usual places like drawers, freezer and under the mattress.
Have a child? They are less likely to spend time in a children's room because they assume valuables aren't in there, hide valuables in unlikely places in the room.
Try to Burglarize Your Own Home
Why not? This will show your weak spots in the home. If you are able to break in, it's that much easier for a professional burglar. Can you get in your doors or windows? What do you see first when you enter that is valuable? Consider making changes based off your findings.
Consider a Home Security System
Why not have peace of mind? Throw your worries out the door when you secure your home with a professionally installed, locally monitored security system. Most insurance companies will reward you with a discount for a home security system.
You can have as little or as much as you want built to meet your individual needs. Be proactive and learn how Custom Alarm can help you protect your valuables and loved ones.
Custom Alarm

, Celebrating 50 Years of providing Peace of Mind.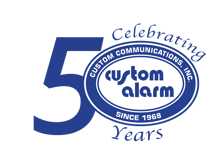 507.288.5522 | custom-alarm.com