If you are like me, you've already started your holiday shopping or at least created a list of what to buy. (Cue the holiday music) If you haven't, that's ok, like others you may be the last-minute shoppers. Either way, if you are shopping online this holiday season you will be receiving plenty of deliveries at your front door.
Are you always home for those deliveries or able to get to the door? No worries, here's one thing you'll want on your Christmas list, the Skybell Video Doorbell!
You may be thinking, "What's that and why is it on my list?"
Custom Alarm uses Skybell doorbell technology to keep you and your family safe! Skybell's unique technology allows you to see, hear and speak to any visitor at your door.
Whether you're home or away by installing Skybell, you can: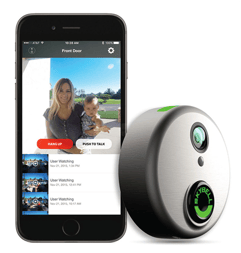 Receive an alert even when a visitor doesn't press the button
Access camera feed straight from your app
Access your doorbell from multiple devices and as multiple users
Review the day's events while you were away – even missed visitors, answered video calls and motion alerts.

Package mysteriously missing? View who grabbed your child's most wanted Christmas gift.

Turn off your home's doorbell chime from your app so it won't wake up a sleeping baby
I can't be home 24/7 to ensure my packages are delivered safely but Skybell will be my partner during holiday shopping!
Contact Custom Alarm today to learn how you can integrate Skybell into your home and enjoy a worry-free holiday shopping experience! Call 507.288.5522 or visit custom-alarm.com
Happy shopping!