Celebrating 50 Years
Help us celebrate this milestone!
The year was 1968 when it all started, founder, Leigh J. Johnson, was in his basement in Rochester, MN creating this great company, which we know today as Custom Alarm. A company that started out small and now proudly has more than 65 caring employees committed to taking care of our growing customer base. There have been many advances and changes in the 50 years, from technology to the several different locations in Rochester and outside of Rochester to the company we are today. A company that not only provides security solutions for home and business owners, but offers custom solutions to fit any size, budget, or needs. Custom Alarm teams up with you for all your fire, intrusion, video surveillance, access control, and so much more.
Here's how you can help us celebrate...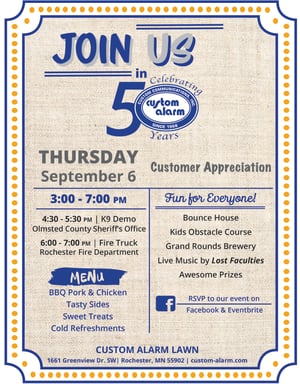 Customer Appreciation 50 Year Celebration
Thursday, September 6 | 3:00 - 7:00 PM
Family friendly fun for everyone!
*Food & Refreshments
*Bounce House
*Live Music by Lost Faculties
*Lawn Yahtzee | Bean Bags
4:30-5:30 pm | Olmsted County Sheriff's Office K9 Demo
6:00-7:00 pm | Rochester Fire Department
RSVP to the event on Facebook or Eventbrite
---
---
Happy Hour Social Highlights
On May 30, we held a Happy Hour Social with a Ribbon Cutting celebrating our 50th Anniversary. We are thankful for all that attended. If you missed out, here's a recap of the fun event and some Custom Alarm history!