This year marks the 35th annual National Night Out, held on Tuesday, August 7 across thousands of communities from all fifty states, including Rochester, Olmsted County and SE Minnesota.
National Night Out (NNO) is an annual community-building event to promote police-community partnerships and neighborhood camaraderie. The evening gives an opportunity to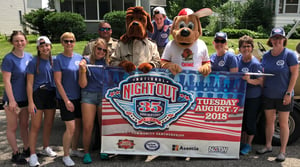 enhance the relationship between neighbors and law enforcement while bringing a true sense of community.
Last year, in Rochester and Olmsted County alone there were over 83,000 people and 435 events pre-registered.
How you can plan the BEST National Night Out party for your neighborhood...
Planning Your National Night Out Event
Talk to your neighbors about having a NNO event
Decide the type of event you would like to have: potluck, ice cream social, BBQ competition, root beer floats, etc.
Send invitations to neighbors
Register your party online at coptalklive.com
Plan activities for kids (get donations for prizes)
Decide on entertainment or music
Get the necessary permits for noise and street closing for Rochester by calling 507-328-6890. If you live outside of Rochester, contact your city officials.
Apply for a neighborhood sponsorship from Custom Alarm here!
Party Safety
Lock your doors for your home and vehicles when you leave for event
Supervise children's activities to avoid injury
Practice safety around grilling and campfire
Having a pool party? Provide a lifeguard
Leave valuables at home, in secure location
Arm your security system when you leave
Dress for the weather, be comfortable
Have a blast and get to know your neighbors!
At Custom Alarm we believe in protecting what matters most and your community is important, which is why we partner with local law enforcement to promote NNO each year. We would love to help you throw the best NNO party in your neighborhood, register for a chance at $50 toward your party.